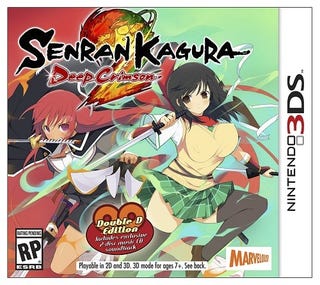 Marvelous and XSeed has announced that the Sequel of Senran Kagura will come to the west!.
Senran Kagura 2 Deep Crimson will arive this Summer both in Physical form and Digital one, unlike the original that came only in the eShop (In NA).
Senran Kagura 2 will come with a "Double D edition" Which stands for Double Discs!. ¿What were you thinking about?.
As someone who plyed the original game to death, i can say that i´m Quite happy!. Senran Kagura is not only about Boobs but also has some frenetic Action and a entertaining History, acompanied by likeable characters!.
Also if you have doubts, yes there is a Male character in this entry, and yes he has also some "Strip action".